memory lane - 2.10.19 
it is now february, 2019. my last dispatch was a year ago. it doesn't seem like that long ago because there have been distractions from my bike riding listening project - some of them health related, some of them professional and there's the small but growing matter of my 7-yr-old, the most fantastic distraction i've ever had. i can enthusiastically and guiltlessly procrastinate on anything if my daughter is the reason.  
i've been on 5 rides since then. just 5. or rather, just 5 that i did the project - put my itunes library on shuffle, document the playlist and write about it. it's not that i haven't been riding the bike. i have. it's that i joined the itunes streaming service for $10/month. this service is death to me, the musician, but as a lover of music, it's been incredible. almost any album i can think of is on there. and most of the new music i want to hear from friends and colleagues. i keep a list in my phone - by far my favorite and most useful iphone feature - of all the records i used to own or that i was close to that i have forgotten or haven't heard in a long time. when i lived in san francisco, there was a vibrant world music scene that i was very much into. a lot of the music on my list is from these very formative years.
african music i had only heard through george collinet's radio show, afro pop, was being performed all over town. cuban music was also new to me at the time and i suddenly found myself playing with the great josh jones. i was never into rap and suddenly found myself co-founding one of the first bands to integrate live music with rappers, alphabet soup. this was a major growth period for me that i never really looked back on. i just kept going. but once the enormous hall of music on itunes was at my disposal, i started going through my list and checking out as many of these old influences as i could find. the list was pretty long as i would add an album when something reminded of it or it just randomly popped into my consciousness. over the last year, i've become reacquainted with some great albums on my bike rides: 
codona
    i started to get into the band, oregon, when i got to san fran and eventually wound up becoming friends with their reed player, paul mcandless. that led me to their percussionist, colin wolcott, who died before i had the chance to meet him. i got to know bay area prodigy and now legend, peter apflebaum, around the same time and he turned me on to don cherry, who till then i had only thought of as the guy from ornette. and then there's nana vasconcelos. i can't remember who first alerted me to the existence of the great, egberto gismonti, but i am grateful. i became obsessed with him and all of his albums and his music has remained close to me. i think his favorite of mine is duos voces, a breathtakingly beautiful duo recording with nana. nana, don cherry and colin walcott had a band called codona that made three records that i listened to a lot at one time. colin walcott also made a very beautiful duo record with guitarist steve eliovson called dawn dance that i am enjoying again.  
my life in the bush of ghosts
    i wasn't a huge fan of the talking heads. i liked some of their songs and i really liked the idea of david byrne as i was starting to become interested in the intersection of music with art school practitioners. i discovered laurie anderson around the same time. eno was too ethereal for me at the time. i thought his ambient music was jive but i was aware that he produced my two favorite heads albums, remain in light and fear of music. when someone turned me on to my life..., i loved it. it inspired the band i was in an the time, third plane, to make the song, 'another jazz casualty,' which features televangelist, ernest angsley, in a way that is similar to the eno/byrne record. 
salsa/rhumba/cuba
    to me, josh jones is the bay area personified. he is at half chinese but speaks spanish, is a master congalero, plays all the percussion parts on the drumset and with his hair slicked back and his pencil-thin moustache, looks hispanic. what an education he gave me. i knew next to nothing and he would just show me. play it like this. he was very generous because cats can be very testy if you play the wrong shit in that genre. one time this cuban guy, butch, threatened to kill me if i deviated from the montuno again, the repeated piano part in salsa music that is the role of the piano player when not soloing. we worked it out. josh would give me a conga during the rhumbas that went on after the gigs till dawn. i could get a good sound but didn't know what to play. josh would show me and i would just put my head down and repeat that rhythm with the best sound i could get out of the drum. it gets complicated when they start singing - a natural wonder in itself that they can do that while playing. but i just kept playing the rhythm josh gave me, never faltering. i earned butch's respect eventually.  
during this time i listened to a lot of cuban and salsa music. two of my favorite albums i still have on vinyl and listen to often - mongo santamaria's, up from the roots and yambu. but there are many more that have been lost in the shuffle of transiency. i got to see pancho sanchez several times while living in the bay area. i had papa gato and sonando back in the day. i've been relistening to papa gato on the itunes and realizing i know every note i heard it so many times. sonando has turned out to be something of a rarity - it's not on the streaming services. lp's are hard to even find and cd's of this recording can be $100. i found a 'very used' cd copy on amazon for $20. looking fwd to that arriving. other albums i can recall and have been catching up with: 
new york now! - daniel ponce 
    this one starts with an insane rhumba very much like the ones josh used to lead at the up and down club. this is an all-percussion record except for one track that has some soprano sax on it.  
tambo- tito puente  
    i don't remember this record but it's on my list. maybe when i hear it, i will remember it. it's not on the streaming services so i bought an (i'm hoping) good vinyl copy for $25 because the cover is so cool. what IS on itunes is a collection of tito 78's from 1949-1955 i never heard and can't stop listening to.  
when i showed up in san francisco in 1989, there was african music everywhere. it seemed like everyone was in an african band. at least most of the horn players i knew were. i had good friends in the band kotoja that played around town all the time. i had african hats. we had percussion jams all the time and would go to the public ones in parks around berkeley. i never was in an african band as much as i loved the music. the keyboard parts were too repetitive and i was trying to do my own thing. but i was sure influenced by it all. i have 3 lp's that are special to me i listen to all the time:
introducing hedzoleh soundz - hugh masekela 
bobby - king sunny ade 
casamance au clair de lune - toure kunde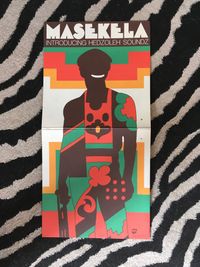 i have over a dozen cassettes i made of the afro pop show that i go back to. and i have some unique cassettes of gaspar lawal, adesanya and foday musa sosa that i could not hear in any other format. and i have this live bootleg cassette of the national dance company of senegal performing in philly. a girl i dated briefly was one of the director's wives. for real. i guess he had so many wives it was cool if she dated me. but a lot of the african music i was into has been forgotten or lost to me from those days. again, through the years i've been keeping a list. and through the itunes, i have found a few old friends recently: 
jungle rhythms and chants - subri moulin and his equatorial rhythm group     
    this brings back memories. must've listened to this record a zillion times. i love that it's just percussion and singing. african rhumba. 
soul makossa - manu dibango   
    the list had the manu dibango recording, electric africa, on it. when i checked the itunes i discovered i hated this recording now. it's later in his career and the drums are electronic and sound shitty. why did i used to like this? but there were a bunch of his other albums and i saw soul makossa and remembered that one. and it's great! mj or q ripped off the title track on that hit, 'do you wanna be starting something?' they settled out of court.  
drums of passion - olatunji
    this is the one that started the african music fixation for me. it's a famous recording from 1959 and it's so cool that anyone can listen to it anytime they want. i wish i had access to music like this when i was a kid. it was a struggle to hear music like this - a trip to the library to hear field recordings, a radio show, or the occasional exotic lp find. i hope my daughter takes full advantage of the chance to learn about whatever she wants because it was never been this easy to get access to knowledge and beauty.