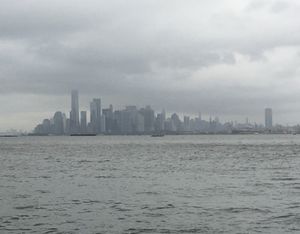 this is really fun. my love for music and for listening is being rejuvenated. i find myself riding longer because i want to hear what's coming next. question - is the shuffle algorhythm truly random?? sometimes it doesn't seem like it. 
la vie en rose - grace jones 
hey, joe - hendrix 
mercy suite, pt 3 - jon cowherd/mercy project 
corner store - brazilian girls/don't stop 
opus de funk - horace silver 
uncle salty - aerosmith/toys in the attic 
presto - dred scott trio/scott free 
with a gun - steely dan/pretzel logic 
g.i. jive - duke/live at the hurricane 
wind cries mary - dred scott trio w/ adam levy/standards 2000 
the grace jones song is on there because she was on the list of possible performers one of the years i md'd the amfar cinema against aids fundraiser in cannes. she didn't get up but i saw her dancing at her table with a dude who looked to be half her age. rite on!
i love jon's playing and writing. and he's a super nice cat. i'm a big fan.  
brazilian girls. nublu. cocaine. good times. the same year we learned the grace jones song, i was walking through the grounds of the hotel-du-cap to an outside location where i and my trio were going to play some jazz for the cocktail reception. there was music coming out of the bushes. there were little speakers in the bushes along the pathways and music was coming out of them. the singer was singing in french. of course, it was france. wait. that sounded like sabina. it was the brazilian girls coming out of the bushes on the grounds of the hotel-du-cap. interesting side note - the hotel-du-cap was the nazi headquarters in the south of france during the occupation. we searched for nazi gold in the grotto. didn't find any.
toys in the attic is one of my favorite all-time records. guitarist joe perry's son, adrian, plays in a band called, evil arrows, with a buddy of mine. we've met a couple of times. he hired me to play a christmas party at his house one year. i made the mistake of asking him if he had any weed on one of the breaks. he informed me he was clean and sober and said, 'you know my dad was big drug addict, right?' of course i did. that's why i asked. 
scott free was released in 2004. very little structure or form to this recording. kenny wollesen, drums. wilbur krebs, bass. 
adam levy and i were doing a duo gig in downtown san fran. can't remember the place. we had been playing a bunch of rock songs in our sets. we went outside on a break and sat down at a bus stop so i could smoke some weed. i was doing a recording session the following day and informally asked him if he wanted to play on some of it. he agreed. 'wind cries mary' was one of the tracks he played on.