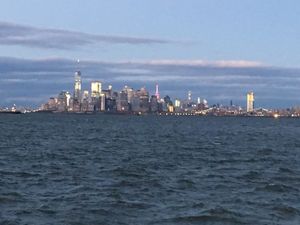 we are all vampires now - carol lipnik and spookarama/demo 
new dreams - old and new dreams/playing 
tiddlywinks - graham connah/gurney to the lincoln center of your mind 
lush life - chris connor/carmen mcrae/out of this world 
malfa sibori - seckou maiga/rough guide to the sahara 
you're a lucky guy - billie holiday compilation 
weeping wall - bowie/low 
gaku - japanese noh music/various artists 
electric light - pj harvey/is this desire? 
nocturnes: IV no. 4 - satie/thibaudet 
zigeuner song - getz and strings 
i was playing with richard julian at the old living room on the corner of allen and stanton and carol lipnik was on before us. she was so weird and amazing. her voice was haunting and unique. she played this song just her singing and playing a zither. just a one chord drone of a song but i and the audience were mesmerized. she called her band, spookarama, after the crappy, run-down coney island attraction. i was hooked. she was friends with richard so when we were introduced after his set, i told her she was amazing and could i be in her band. she had just a fiddle player with her and my mind filled with what i could add while i was listening to her set. i knew i would be a perfect fit. she agreed and we became great friends. i produced her record, M.O.T.H.  this is a demo of a song we never recorded. as of this writing carol is at the club, pangea, first sunday of every month showcasing a new set of songs - songs from the tower. 
when i first moved to san fran, my favorite band was called, papa's midnite hop. ben goldberg, clarinet. sheldon brown, sax. richard saunders, bass. kenny wollesen. i would become friends with all these guys and got turned on to a lot of music through them. it was through this chordless group that i discovered old and new dreams. another great chordless group in the style of ornette coleman's early music. they only made 2 studio records. this track is from the first of two live albums they did. 
graham connah is an old friend of mine from my san fran days - great pianist/composer - and funny. graham is hilarious. he wrote this song about me. here are the lyrics: 
i live in terror of a dred named scott 
those fidgety, digity chops he's got 
the groove is phat his licks are mack 
stay out of the way of his staccato attack 
smokin' like a chimney on fire 
tiddlywinks walkin' on a tight rope wire 
wilbur and jojo followed him out west  
all manner of substance they'd ingest 
paid a lot of dues back in ohio 
he's the cat with the cat-in-the-hat chapeau 
loadin' up a bowl on the 18th hole 
puffin' on shrub at the up and down club 
we dwell in terror of a scott named dred 
he's telling us all small clubs are dead 
a man with a formidable plan: 
3 more albums in the can 
buds are the kinder 
gentle behinder 
smokes like a chimney 
swirling grimly 
sell you an ounce 
business man's bounce 
resin is gnarly 
14 dead charlies 
i hear he's working on a string quartet 
i guarantee you ain't heard nothing yet 
graduated from the sf mime troupe 
now he's shrekkin' with the alphabet soup 
puttin' out sides with a click named dark 
and giving that phatty a spark 
i got into japanese noh music because i saw the rova sax quartet perform with a noh ensemble. there is a rich theater tradition it accompanies, typically, dating to the 7th century. as i understand it, noh music is mostly improvised. the drummers play one note only in their own time. the concert i saw there were three drummers, all sitting. when a drummer's time came he would slowly raise his hand high in air, sometimes intoning a single note with his voice, then bring his hand down on the drum, whack! then he would sit there motionless till his next moment. at first there is a lot of silence between the events - i don't know what else to call them - notes? but as the piece progresses the music becomes more dense as each musician decreases the time between strikes. meanwhile, the flute and at the concert, the rovas, would play long tones or bursts of melody. the concert was a fascinating collision of cultures that really worked. 
Embed for we are all vampires now