when i got to the pier today, this was on the ground....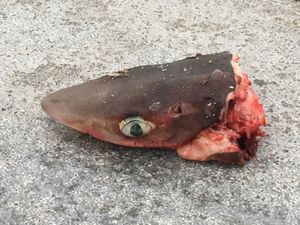 epri 3A/9.4.05 - dred/ideas in motion 
autumn leaves 2 - pacific jazz quartet featuring sasha dobson/unreleased 
lazy lover - brazilian girls/don't stop 
palms - frank locrasto/night people 
tillie 3 - dred/the satie project/unreleased 
have a cigar - pink floyd/wish you were here 
eronel - monk/criss-cross 
crossing - oregon/crossing 
lola - the kinks/best of 
the phone call - pretenders/pretenders 
time for the hard stuff - dred scott trio/live at the rockwood music hall 
'epri' refers to the client - the electric power research institute. this was a slightly different version of a cue i did that you can hear in one of the other dispatches. 
sasha dobson is one of my oldest and dearest friends. 'friends' doesn't really describe our relationship. 'family' would be a better word. when my daughter was born, she held one of my wife's legs, i held the other. i'm good friends with her older brother, smith, who lives in san fran and plays everything. and her mom who is a great singer. in 2001, her father, bay area piano legend, smith sr., died very tragically in a car accident coming home from a gig. he was just 54, one year older than me. it's heart-wrenching to remember him. what a family. they all have/had an incredible natural gift of musicality and artistic sensitivity. even sasha's grandmother sings great. i've known sasha since she was just 17. she moved to nyc a couple of years after i met her - i think i met her through smith but i can't remember. she was a kid. fast forward 10 or so years and i find my way to nyc and we became reconnected. by then she was singing like a seasoned pro. over the years we became closer personally and played a ton of gigs together. she is one of the few jazz singers that almost prefers to sing without chordal accompaniment. i know it's partially because of the hole her dad left in her life - no more chords. but it is also because she sings so freely that chords can get in her way. when there are no chords, the ear of the listener leans forward, giving sash all the attention and you can really her the beauty and artistry of her singing. she first heard me playing drums in one of smith jr's bands that he played vibes in. so she has often called me to play drums on gigs. that lead to this specific project that never made an album - the pacific jazz quartet. a lot of the pacific jazz label albums had no chords - the mulligan/baker quartet, for example - so that's where the band name came from. our other old friend from the bay area, rob sudduth, had moved to nyc. and we were all great friends with life long new yorker and incredible bass player, neal miner, so we started this project. this track was recorded live in my basement. 
lazy lover, cassanova 
you roll over 
when i want more 
it bears mentioning again the i love this frank locrasto record. the story i wrote for the liner notes is on here somewhere. 

i came across this book of satie's containing 20 short pieces for piano in a bookstore sometime ago. he called it, 'sports et divertissments'. it was written in 1914. on one page is a short piano piece written in satie's hand with comments of his written under the music. the one he called 'la chasse' - hunting, for example, has the text written throughout the music:
(translation) 
'do you hear the rabbit singing? what a voice! the nightingale is in its burrow. the owl is nursing its children. the young wild boar is going to get married. as for me, i am knocking down nuts with rifle shots.' 
on the facing page is a full-page, color illustration by charles martin. my copy is cheaper and black and white. it's a great concept - especially now. the bottom has fallen out of the music industry. noone wants to pay for music anymore. as a musician/composer whatever, i have given a lot of thought to how to monetize my art. one day i thought, what's one of the things you never get rid of when you move - your art books. you sure get rid of your cd's. you just put them in your computer or a hard drive or they go into the cloud. your art books you will always want to look at. the work will mean different things to you throughout your life. so. i thought i'd try and make a couple of these satie-style books because i am friends with so many artists now in my early old age. there will be one focusing on one artist, one focusing on a different artist, a kids one with illustrations done by kids with piano music being playable by kids and so on. the first one i'm almost through with focuses on animal artist, tillamook cheddar - tillie. she has recently passed and this is to be her first posthumous collaboration. i've chosen the plates with the help of her assistant, bowman hastie, and i've composed a dozen piano pieces so far. this is one of them. 
i love oregon. i became aware of them when i moved to california. they have made maybe 30 albums but this one is the last one with all the original members. percussionist colin walcot died in car accident in east germany while they were on tour just after recording this one - hence the title, crossing. he was only 39. 
it's jazz, for sure - mostly improvised but it is a different kind of jazz. i wouldn't know what to call it. some people might refer to it as 'new age' but that has a shallow connotation to me, although there are definitely great musicians in that genre. it is not typically heavily improvised like jazz, like oregon. i'm inclined to think oregon invented some kind of genre that i can't really name - new age jazz? it really makes you think how confining labels are to the idea of music - something that can be observed from so many personal references that to label it hampers the experience.
i got to play and hang some with paul mccandless in my california years and he is not only one of the nicest guys i've ever met, he is also one of the most skilled and sensitive players i've ever heard or played with. the sound he gets out of his oboe or soprano sax is so pure and beautiful and his technique is flawless. just great. paul and i had some good times at smiley's in bolinas, where he lives. 
i saw the kinks in the 80's in the music hall in the cleveland public auditorium. i was not a big fan. i liked some of their songs but they were never a big influence. my friend wendy, however, was a rabid fan - all kinks, all the time. she kept trying to get me deeper into them and i was like, meh. then she took me to hear them. ray davies is one of the best performers i have ever seen. he was so generous. in a huge theater full of people, he made you think he was singing just to you. when they came out for a couple of encores, i was on my feet cheering, i was so happy to see him - like an old friend. when the encores were over, i was genuinely sad that i wasn't going to get to keep hanging out with him. i saw him 20 years later doing a solo show in nyc at the edison theater. of course, wendy had driven from cleveland to see him with me. same thing. just so generous is the only way i can think to describe him as a performer. 
the last track i call a 'drinking song'. the melody has some difficult intervallic jumps and the chords are tricky to improvise over. if you've had too much to drink, you will fuck it up. the trio played at the rockwood music hall every tuesday nite at midnite from 2005-2011 and ken rockwood had the idea to make a live record - the first one made at the rockwood music hall.