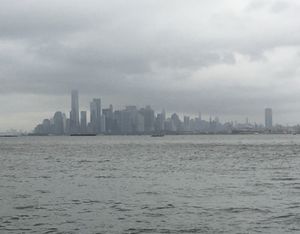 mystery achievement - pretenders 
earth died screaming - wait  
stephen foster - industrial cue/dred 
california dreamin' (take 3) - dred scott trio/unreleased 
country honk - stones 
not a top, i'm a bottom - rene risque and the art lovers/unreleased 
etudes book lll: premonitions - bolcom/hamelin 
a british bank - mary poppins 
where flamingos fly - getz w strings 
poudre d'or - satie/thibaudet 
pretenders 1 and 2…every song. very sad what happened after that. chrissie hynde is a hero of mine - a rock n roll warrior. i met her once at the fuji festival in craft services. we had played across the field during her set. when we were through, there was time to hear the rest of her set so we all ran over. i walked over. i had gone onstage with a bucket that i was still holding. despite japan's meticulous food prep reputation, i had contracted some sort of food poisoning that made me wretch about every 30 minutes since it had started several hours ago. the 40 minute set we had just played was the longest i'd gone without barfing and i was due any minute. but i didn't want to miss the pretenders, so i took the bucket with me. we got backstage and saw the remainder of her set. love watching martin chambers play the drums. he does this thing in his drum solo where every time he crashes a cymbal, the stick goes flying into the crowd as he seamlessly draws another one from his stick bag all in one motion. after her set i still hadn't barfed. i thought i should try and eat something so i went to craft services. i was standing at a table with a bunch of food on it trying to decide. i put some lettuce, some carrots, half an apple and some crackers on a paper plate. when i looked up, she was standing next to me. being an outspoken vegetarian, chrissie looked at my plate and then at me. 
'right on,' she said. 
i said something like, 'i've been barfing for the last 8 hours. i think this is the only food that will stay down. thanks for rocking.'  
i love the song, 'california dreamin'. always have. when california became my adopted homeland, this was a song i wanted to hear when i was away. now that i have been in nyc for 17 years it has taken on an even more melancholy vibe. and that bud shank flute solo. i start the solo w an homage to his solo. this isn't a bad take. there was something wrong with it but i couldn't recall listening to it. i think i didn't like the way i played the melody. this is ben rubin, bass and tony mason, drums.
i played in rene risque and the art lovers for 5 or so years. it was a fake glam, internationally infamous rock act - rocky horror meets gay meatloaf. possibly the most fun i've ever had hanging and playing music with these guys - and girl -  a most horrible, hate-filled, spiteful girl by the name of luffa barre. drydon springforth, bass. dolce fino, guitar. johnny sunshine, drums. yours truly, leo silver on keyboards. and the rakish, roguish, rock n roll paramour, the irresistible, rene risque. this track was done in a box in the san fernando valley. there are no studio or live recordings of rene risque and the art lovers. 
i am still very strangely attracted to mary poppins. not julie andrews. mary poppins. 
finally, getz w/ strings. just gorgeous. the way he does the fu, fu, fu on the tenor - very reminiscent of lester young. getz was not just a sonic influence on me but a master of how to be cool. jazz musicians should be cool. he was one of the coolest.  
Embed for california dreamin'   take 3