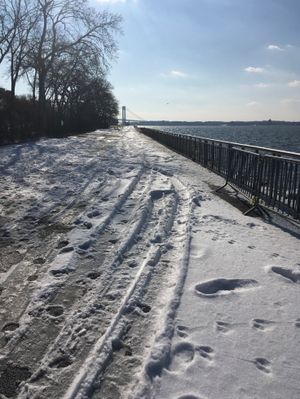 it's a long way to the top - ac/dc/high voltage 
old devil moon - the pacific jazz quartet featuring sasha dobson/unreleased 
hook - pj harvey/rid of me 
i didn't know what time it was - sonny clark/sonny's crib 
semi suite - tom waits/the heart of saturday nite 
the phone call - the pretenders/demo 
epri 6 - dred/ideas in motion 
wave - jobim/wave 
all the young dudes - mott the hoople/all the young dudes 
moon face, starry eyes - teddy wilson/origin unknown 
i may be wrong - gerry mulligan quartet/gerry mulligan quartet 
there is still quite a bit of snow on the ground, especially where it was piled from plowing or shoveling. the tiny tires of my folding bike can't go through any snow at all. the wheel just turns and the bike jack-knifes. i couldn't get to the promenade from shore rd without carrying the bike over the unshoveled path so i took shore road to the pier, hoping the promenade itself had been shoveled. it wasn't but i could see a lot of concrete and the sun was out and it was warm for january. i portaged over some impassable snow a couple times but was able to ride all the way back to the bridge without wiping out. 
high voltage is one of those records along with dirty deeds that i have digital and vinyl copies of, i like them so much. ac/dc is not really ac/dc to me without bon scott. yes, they bounced back from his death with back in black and that is a great record. but the sound of bon's voice - the character, the mischievousness - brian johnson just didn't have that, though he surely sang his heart out. 
the track with sasha was done live in my basement on 17th st. - neal miner, bass. rob sudduth, tenor sax. yours truly, drums. the band is connected on this take. it's the kind of take you want in the studio - loose but tight, creative, everyone feeling free to get inside the music. this is one of the best drum solos i've ever played that got recorded. this is how i would want to play all the time - listening and reacting and adding to the picture but still percolating and feeling good.
Embed for old devil moon
i love sonny's slick arrangement here. this is jazz in the classic sense - right down the middle, swinging and singing. philly joe and pc. i think spike wilner turned me on to sonny. he is not as well-known as some of the pianists from the 50's, a decade crowded with great jazz musicians that made a lot of records but he is one of the cats, for sure. he has a way of playing that is not aggressive or flashy that i like. he is understated. 
totally didn't know or remember this waits track. it's remarkable because he uses his real voice - not the gravely, drunken, hobo-warming-himself-next-to-an-oil-drum-fire-in-the-train-yard voice. and it's a beautiful voice. i know he was influenced by the crooners he heard growing up - perry como, dino, andy williams, jack jones, johnny mathis, bing, frank. i can hear it. my mom loved all those guys and we had all their records, too. 
interesting to hear this pretenders demo. i've heard this song a hundred times and never could catch the mission: impossible lyrics. they are much clearer in this demo version that came as a bonus track. martin chambers doesn't quite get the instrumental bits that are way tighter on the album version. pretenders I and pretenders II are another two records i have digital and vinyl copies of. i'm reading her autobiography right now.  Embed for the phone call (demo)
this is another 30 second cue for the electric power research institute.  Embed for epri 6
wave...what a cool album cover. you just know the music is going to be cool.
did not know this kurt weill tune. mike, the maitre d' at sofia's was/is a huge teddy wilson fan. sofia's is gone. mike is not. 
i may be wrong but 'i may be wrong' sounds a little like 'taking a chance on love.' this band....i have all their records on vinyl. in fact, i collect pacific jazz records and have maybe 50 of them. i love the imprint - a piece of art takes up the whole cover and the band name and title are at the top. chet, gerry, shelly manne, joe pass, art pepper, bud shank, gil evans, clare fischer, paul desmond, lee konitz, russ freeman, chico hamilton, annie ross. the label had a sound that was focused and recognizable. it was west coast. it was cool.